Getting the most from your Inertial Navigation System by utilizing the Inertial Labs Gyro-Compensated Magnetic Compass contained within a lightweight OEM module.
Paeonian Springs, VA, November 16, 2021: Inertial Labs Releases INS-P-OEM – An Original Equipment Manufacturer (OEM) version of the Professional Inertial Navigation System. The INS-P-OEM is the ideal solution for integrators and engineers within the aerospace community who are looking to develop a payload where cost and performance are both drivers for customer and project success.
The INS-P-OEM is perfect for applications that involve intermittent GNSS-Outages where maintaining a high level of heading accuracy, and in turn, a high position estimation calculation, is of critical importance. The INS-P-OEM contains Inertial Labs' gyro-compensated fluxgate magnetometer, which is a tri-axial MEMS-based magnetic field sensor that calculates not only magnetic field magnitude but also direction for all three axes.
The Inertial Labs INS-P-OEM also allows for inputs of many other data formats and types to increase the robustness of the navigation solution, especially in a GNSS-Denied environment. Aiding data such as airspeed, external heading, external position, wind speed, odometry data, and even external pitch and roll data can all be fed into the INS-P-OEM and sensor fused inside the Inertial Labs Kalman Filter for an accurate and trusted navigation solution.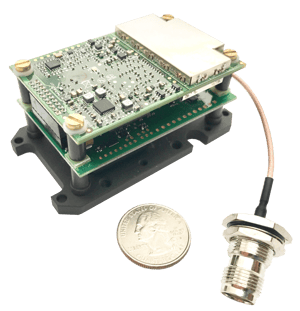 Additionally, the Inertial Labs INS-P-OEM features the ability for customization and modularity. The INS-P-OEM is configurable in whichever GNSS receiver the user would like to select for their application. The user can select from a multitude of commercial off-the-shelf (COTS) receivers made by NovAtel or uBlox. Customers will also be able to benefit from the fact that this solution is an OEM supplied solution. This means modularity and easy integration for the end-user; the INS-P-OEM is able to fit into custom housings and within other platforms.
About Inertial Labs, Inc.
Established in 2001, Inertial Labs is a leader in position and orientation technologies for both commercial/industrial and aerospace/defence applications. With a worldwide distributor and representative network covering 20+ countries across 6 continents, and a standard product line that spans from Inertial Measurement Units (IMU) up to GPS-Aided Inertial Navigation Systems (INS) with application breadth on Land, Air, and Sea; Inertial Labs covers the gambit of inertial technologies.
For further information and specifications on the Inertial Labs GPS-Aided INS-P-OEM or IMU, MRU and AHRS, please contact:

William Dillingham, Application Engineer
Will.Dillingham@inertiallabs.com
+1 (703) 880-4222
Inertial Labs Inc,
39959 Catoctin Ridge Street, Paeonian Springs, VA 20129
www.inertiallabs.com